Brief introduction of 3PE anti-corrosion steel pipe
Sources: this site Click: Date: 2019-12-30 20:14:43
3PE anti-corrosion steel pipe processing methods generally sub-winding type and round mold-covered two. The three-layer polyethylene coating (3PE) combines the excellent properties of both fused epoxy powder coating and extruded polyethylene coating, the interface properties and chemical resistance of fused epoxy powder coating, and squeeze Combined with the advantages of mechanical protection of polyethylene coating, etc., thereby significantly improving their performance. Therefore, as a buried pipeline outer protective layer is very superior. According to the information, three-tier PE can make buried pipe life of 50 years, at present, internationally recognized as advanced pipeline anti-corrosion technology.
Flow Chart: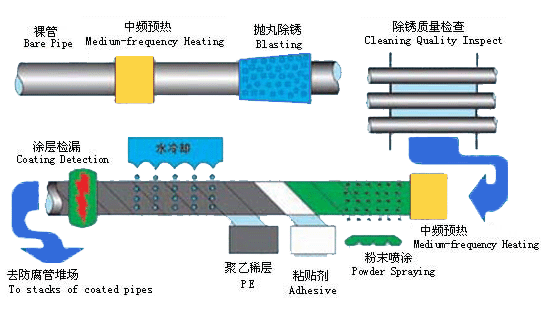 Product Size:OD40mm - OD 3000mm
Product Material:API 5L GR.B,X42-X80,ASTM A53/A106 GR.B,S355, ST37,10#, 20# ,Q235,Q345..
Standard:GB/T23257-2009,SY/T0413-2002,DIN30670-91,CAN/CSA-Z245.21-M92
3PE Coating performance:
Project

Peel strength(N/cm)

Cathodic strip(mm)(65℃,48h)

Impact strength (J/mm)

Bending resistance (2.5°)

20±5℃

50±5℃

Performance

≥60

≥40

≤10

≥5

No cracking of polyethylene