Profile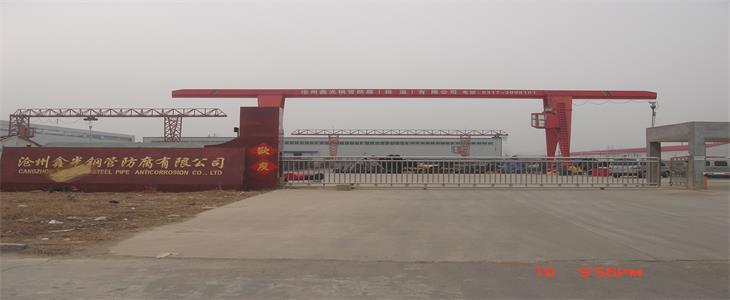 Our coated steel pipe factory is a professional company for pipeline internal and external coating,Factory located in Cangzhoucity,Heber Province,area of 20,000m, Owning one coating Lines with international level which is used for steel pipe and metal structures.At present,our company can undertake various of external coatings project for steel Pipes,single ortwo-layer fusion bonded epoxy power FBE,2PE,3PE,2PP,or corrosion coatings isused for them.We also can apply for the internal coating of cement Mortar innerwall pipeline.It also can undertake applications of anti-corrosion Coatings andthermo-isolation cover for various metal storage tanks ,metal vessel and lthermetal structures.We also can produce different types of anti-corrosionCoatings.(You can see the products in details which is attached tointroduction. Our company has been carrying out the standard of NFA4970 CAN/CSA-Z245.21DIN30670, DIN30671, SY/T4013-2002,SY/T0315-97, the coating capacity shall be1,000,000m.
Meanwhile,our factory can product various of series coating,the main products.Made by the factory are epoxyseries polyurethane-ethylene anti-corrosion coatings,series organic silicatehigh temperature resistant coating and acrylic series anticorrosivecoating,etc.Because our products have the excellent features ,for example,thecoating film is not only oil-/acid-/caustic-/salt-/benzene- resis Tant but alsowearable and wet-resistant,so all the products are widely applied for the anti-corrosiontreatment of steel structures,chemical equipment,all kinds of the storage tanksand pipelines in petrochemical industry,construction,sea facilities and otherindustrial/mining departments.
Our factory have solid technicalfoundation and also experienced in anti-corrosion and thermo-Isolation coverproject. The company has successfully accomplished a lot of long-distancepipeline anti-corrosion coating and thermos preservation project foroil,gas,water and also for oil storage tanks.Thef company have participated andaccomplished the exporting pipeline anti-corrosion coating for Indonesia andSaudi Srabia.The quality of the these project and service was highly praised bythe clients.